Guide for High-Net-Worth Individuals Moving to South Carolina
Welcome to our comprehensive Guide for High-Net-Worth Individuals Moving to South Carolina. Suppose you're retiring soon and looking for ways to leverage your savings in a more financially advantageous way. South Carolina should be at the top of your list for geographical locations and cost of living.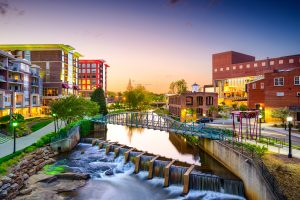 Greenville, South Carolina, has become a highly sought-after destination for high-income earners and high-net-worth individuals (HNWI) with its thriving economy, cultural attractions, retirement lifestyles, and hospitable environment. 
This Guide is designed to provide an in-depth understanding of the numerous financial benefits and opportunities that await you in this charming Southern state. We'll explore seven compelling reasons why more and more successful individuals are choosing to call Greenville, South Carolina, their new home:
Affordable Cost of Living

Thriving Community

Cultural Events

Quality Education

Friendly Community

Lower Taxes in South Carolina

Property Taxes

State Inheritance Tax

No Social Security Tax

Lower Sales Tax

Incentives to Relocate Your Business to South Carolina
As you navigate through our Guide for High Net Worth Individuals Moving to South Carolina, you'll gain valuable insights into how relocating to Greenville can positively impact your financial well-being and overall quality of life. We invite you to explore this comprehensive resource and envision the exciting opportunities in this vibrant Southern city.

Let's dive in. 
Chapter 1
Lower Cost of Living in South Carolina
Greenville, South Carolina, has consistently maintained a lower cost of living than the national average over the past several years, making it an increasingly attractive destination for successful, high-income earners and high-net-worth (HNW) individuals seeking to optimize their financial well-being. 
One of the driving factors to Greenville's affordability is housing costs. Greenville, SC, is an excellent place to save money without compromising quality. You can't go wrong with housing 28% cheaper than the national average and utilities 3% cheaper. Greenville's living cost is 4% lower than the state average and 9% lower than the national average. What's not to love, right?
Global View Investments, a Greenville fiduciary financial advisory firm, has helped numerous clients who recently relocated to Greenville by creating robust retirement plans optimized to leverage this affordability and lifestyle. 
Chapter 2
Greenville's Thriving Community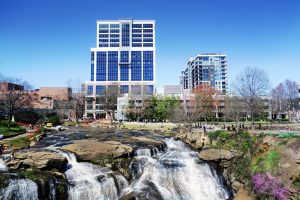 Greenville, South Carolina, has been gaining popularity over the years due to its high quality of life, economic growth, and cultural opportunities. It's known for its thriving arts scene, beautiful downtown area, and warm, friendly community.
Business and Employment Opportunities:
Greenville is home to several large corporations, particularly in the manufacturing and technology sectors. Michelin is headquartered there, and GE has a manufacturing plant in Greenville.  BMW has a plant 30 miles away.  It's also known for its thriving healthcare industry with major employers, including Prisma Health and Bon Secours St. Francis Health System. 
Greenville also had a burgeoning startup scene with a supportive environment for small businesses.
Unemployment Rates:
Greenville's unemployment rate is generally lower than the national average, indicating a healthy job market. However, these rates can fluctuate due to a variety of factors, so it's important to check the most recent data before making any decisions.
Quality of Life:
Greenville is often praised for its high quality of life. The city has a vibrant downtown area with a variety of dining and shopping options. It's also home to several parks and the beautiful Falls Park on the Reedy, which is a major attraction.
Chapter 3
Greenville Cultural Events
Greenville, South Carolina, is known for its vibrant cultural scene and hosts numerous events every year, showcasing the best in music, art, food, and more. Here are some popular cultural events that typically occur in Greenville:
Artisphere: This is a highly-anticipated annual event in Greenville. It's a weekend-long arts festival that showcases local, national, and international artists. You can expect to see live performances, hands-on demonstrations, and a wide variety of art for sale.

Fall for Greenville: This is a three-day event that usually takes place in October. Fall for Greenville celebrates the city's culinary scene with over 40 local restaurants participating. There's also live music across multiple stages.
Euphoria: This is a high-end food, wine, and music festival held annually in Greenville. It attracts chefs, winemakers, and musicians from around the country and even internationally.
Greek Festival: Hosted by the Greek Orthodox Church, this event takes place annually and showcases Greek culture, food, music, and dance.
Shakespeare in the Park: The Upstate Shakespeare Festival performs free Shakespeare plays in the park during the summer months.
Indie Craft Parade: This annual event celebrates handmade art. Artists from around the region come to showcase their work, from jewelry and clothing to furniture and home decor.
Main Street Fridays: This is a weekly music series on Main Street in downtown Greenville, running from March through September. Each event features a band playing two sets of live music.
Saturday Market: From May to October, downtown Greenville hosts a farmers market featuring local vendors selling fresh produce, baked goods, handmade items, and more.
Peace Center Performances: The Peace Center is a venue for the performing arts and hosts a variety of performances, including Broadway shows, concerts, and comedy shows.
GHS Swamp Rabbit Trail: While not a cultural event, this is a popular trail for locals and visitors alike and often hosts various cultural and community events.
Chapter 4
Greenville Education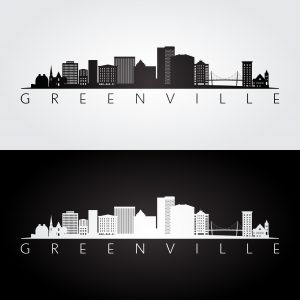 Greenville, South Carolina, is home to a number of highly esteemed educational institutions, ranging from primary education to higher education. Here are some of the notable educational institutions located in Greenville:
Furman University: Furman is a private liberal arts university known for its strong academic programs. The university is renowned for its rigorous undergraduate research programs and its commitment to experiential learning. Its beautiful campus is located just a few miles north of downtown Greenville.

Bob Jones University: This is a private, non-denominational Protestant university known for its conservative cultural and religious positions. It offers undergraduate and graduate programs in a variety of fields, including liberal arts, music, and a highly regarded fine arts program.
Clemson University – Greenville Campus: Clemson is a public research university that is nationally recognized for its programs in engineering, business, education, and more. The university's Greenville campus, CU-ICAR (International Center for Automotive Research), is a renowned hub for automotive and motorsports technology research and innovation.
Greenville Technical College: This institution provides accessible, career-focused education to the citizens of Greenville. With a wide range of degree and certificate programs, Greenville Tech is an important resource for those seeking to develop new skills or change careers.
South Carolina Governor's School for the Arts & Humanities: This is a public, residential high school for emerging artists. Students have the opportunity to study creative writing, dance, drama, music, or visual arts in a highly focused and immersive environment.
Greenville County Schools: This is the largest school district in South Carolina, serving more than 75,000 students across numerous schools. It's known for its high-achieving schools, award-winning teachers, and innovative programs.
North Greenville University: Located a bit north of Greenville, this private Christian university offers degrees at the bachelor's, master's, and doctoral levels, with a variety of programs in the liberal arts and professional studies.
Chapter 5
Greenville's Friendly Sense of Community
When you relocate, you want to move to a location that is both vibrant as well as friendly.  Here are some of the reasons why people love living in Greenville, SC:
Southern Hospitality: Like many cities in the Southern United States, Greenville is known for its Southern hospitality. This is a tradition of welcoming visitors and treating neighbors like family. It's not uncommon for residents to greet strangers on the street or lend a helping hand to those in need.

Community Events: Greenville frequently hosts community events, such as weekly farmers' markets, music festivals, and other local gatherings. These events foster a sense of community and provide a space for residents to interact in a friendly, informal setting.
Active Volunteer Culture: The city has numerous volunteer organizations and opportunities that encourage its residents to give back to the community. This commitment to service fosters a friendly, community-oriented environment.
Urban Design: Greenville's urban design features plenty of public spaces, parks, and pedestrian-friendly streets. These areas encourage social interaction, contributing to a close-knit and friendly community.
Diverse Population: Greenville is home to a diverse population, with people from all walks of life. The city's welcoming nature and acceptance of diversity contribute to its reputation as a friendly community.
Chapter 6
Lower Taxes in South Carolina
South Carolina has become a popular destination for successful high-income earners and high-net-worth (HNW) individuals based on its tax advantages. In particular, Greenville has emerged as a hotspot for this demographic, offering a combination of tax advantages and attractive lifestyles. 
Lower Property Taxes:
One of the main reasons people like you are drawn to Greenville is its lower property tax rates. South Carolina ranks among the states with the lowest property taxes in the country, making it an attractive option for home and business owners. Greenville, in particular, boasts competitive rates to help you and your family realize significant savings on your property tax bills.
No State Inheritance Taxes:
South Carolina does not impose state inheritance taxes, allowing HNW individuals and their families to preserve their wealth for future generations. This tax benefit can lead to considerable savings and peace of mind for those seeking to pass their hard-earned assets to future generations.
No Social Security Taxes for Retirees:
Retirees in South Carolina can enjoy their golden years without the burden of paying state taxes on their Social Security benefits. This advantage allows retirees to tch their retirement savings further and enjoy a higher quality of life.
Lower Sales Tax:
The sales tax in Greenville, SC, is lower than the national average, providing residents with additional savings on everyday purchases. This lower sales tax rate contributes to a more affordable cost of living, which can be especially beneficial for those on fixed incomes during their retirement years.
Transitioning to a new city can be both exciting and stressful – that's why teaming up with experienced Greenville retirement advisors is essential. At Global View, our experienced team of fiduciary financial advisors will act in your best interest, developing tailored plans for maximizing your financial potential as you move into the area. 
Chapter 7
Incentives for Relocating Your Business to South Carolina
There are numerous compelling reasons for business owners to consider relocating to Greenville, South Carolina. One of the key incentives provided by the state is the advantageous tax environment.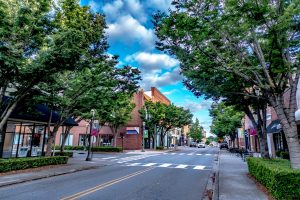 South Carolina offers a competitive tax climate with low property, income, and corporate tax rates. The state provides various business tax credits, including job tax credits, corporate income tax credits, and sales tax exemptions. These tax benefits entice business owners to establish or expand their operations in Greenville, ultimately contributing to the region's thriving economy.
In addition to tax incentives, Greenville, South Carolina, boasts many tourism opportunities that can significantly benefit businesses in the area. Greenville's charming downtown, scenic parks, and vibrant arts scene draw a steady stream of visitors, creating a flourishing market for local businesses.  The state actively supports the growth and development of its tourism industry, making it an ideal location for hospitality, retail, and entertainment businesses. 
By relocating your business to Greenville, as a business owner, you can capitalize on the region's thriving tourism sector while taking advantage of the state's various incentives, positioning your company for long-term success in the dynamic South Carolina market.
Chapter 8
Finding a New Fiduciary Financial Advisor in Greenville
Once you have settled in your new home, one of the top priorities should be finding a financial advisor to help you with your retirement planning. A fiduciary financial advisor in Greenville, SC, can provide personalized advice tailored to your financial situation and goals. 
To find a reputable advisor, online resources, such as the National Association of Personal Financial Advisors (NAPFA) and the Certified Financial Planner Board of Standards (CFP Board), can help locate Greenville fiduciary financial advisors.
When choosing a financial advisor, consider their credentials, experience, and fee structure. Schedule initial consultations with a few advisors to determine if they are a good fit for your needs and have the expertise to help you navigate the financial landscape in Greenville, SC.
Chapter 9
About Global View
We're a dedicated and independent Registered Investment Advisory firm, privately owned and operated by our passionate team of experts. As your fiduciary advisor, we're committed to prioritizing your best interests – no exceptions.
Our fee-only structure ensures transparency, as we're only compensated through client fees, just like your accountant or lawyer. We take pride in not accepting commissions or any other form of third-party compensation. 
This approach keeps us focused on your success, maintaining our independence, and providing an unwavering commitment to your financial well-being.
Feel free to reach out if you have any questions; we look forward to talking to you.